I've just begun the the finish on this build which is magnetite by a process called "rust bluing". Essentially, this process calls for promoting common rust on the parts and then boiling them in water in order to chemically change the common red rust (FE203) to a black rust (FE3O4). This leaves a black oxide finish on the final product that is very durable.
I have done this once before on a previous build and I really like the results. I have seen some discussion about it on this forum as well as others, but it seems that not too many people use this process. I wanted to present my experience here in order to help others that may be contemplating this approach and hopefully to dis spell any apprehensions. This really is not a complicated process.
In a nutshell, the process is as follows;
1. This process only works on ferrous (rust-able) metal.
2. The metal is cleaned and de-greased
3. The metal is applied with a corrosive solution and placed in a high humidity chamber to promote corrosion in the form of ordinary rust.
4. The parts are boiled in distilled water in order to create a chemical reaction whereby the common red rust is transformed into another oxide of iron that is black in color.
5. The resulting black oxide is "carded", whereby the bulk of the black oxide that was just created is removed to leave behind the only the black oxides that are tightly bonded with the base metal.
6. The process is repeeted (starting with step 3 above) allowing the base black oxide bonded with metal to build-up. This process may be required for 8 to 15 cycles until the end finish is to your satisfaction.
First, let me just say that this is a (calendar) time-consuming process. However, the amount of time that you actually spend on this process is not too great. Figure on a day to get everything started, and then about one hour a day to process. So, one day of set-up and one hour a day times 12 days equals about 2-1/2 days of your actual time spent working. The results are well worth it. A nice dark Black/Blue finish that is VERY durable and long-lasting.
For this process, you will need the following;
1 Patience. This is a somewhat long process where you are only working in short stints over the course of about 1-1/2 weeks.
2. Fresh (clean) acetone to clean your parts .
3. A solution to apply to your parts to promote a layer of rust. I used a mixture o 1/3 part ferric chloride, 1/3 part distilled water, 1/3 part denatured alcohol. The only caustic ingredient here is the ferric chloride that is diluted with the other two ingredients. The alcohol is to help it flash-dry a little quicker.
4. A box of nitrile disposable gloves to handle your parts in a clean manner.
5. A "sweat box" to promote the rusting process. I just used a cardboard box with old t-shirts draping over the opening.
6. A metal container to boil your parts in.
7. 000 or 0000 steel wool to card the parts after each boil.
8. Clean rags for various cleaning activities during the process.
9. Applicator brush for putting the rust promoting solution on the larger parts. I prefer the little foam brushes.
10. Be open with your wife so she understands what you are doing on her stove!
1 Final sanding of small parts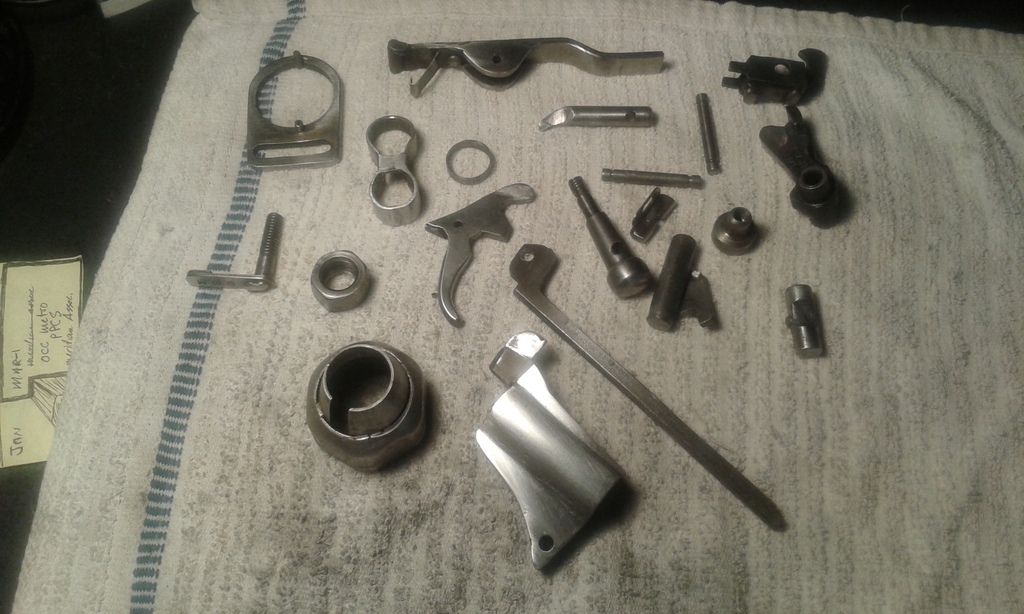 2 Final sanding of Large Parts. Give your parts the last once-over to remove scratches.
3 Acetone wash of small parts. Thoroughly decrease all parts. Use fresh cloths and fresh acetone a couple of times to be sure all grease has moved-on. Only handle from this point forward with the rubber gloves.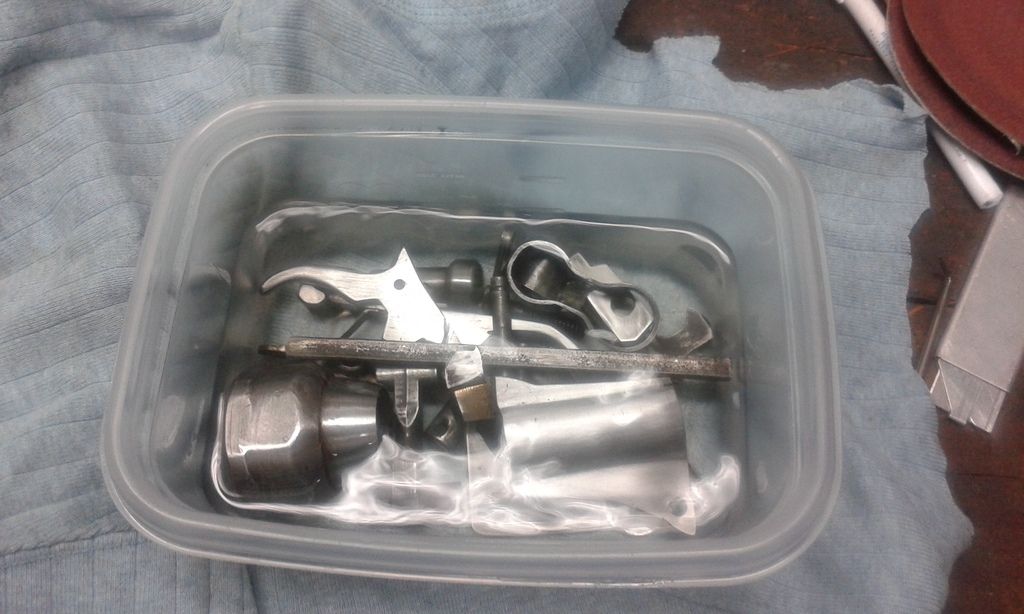 4 Acetone wash of large parts. I poured acetone over parts that had over-lapping sheet metal to help flush out any grease.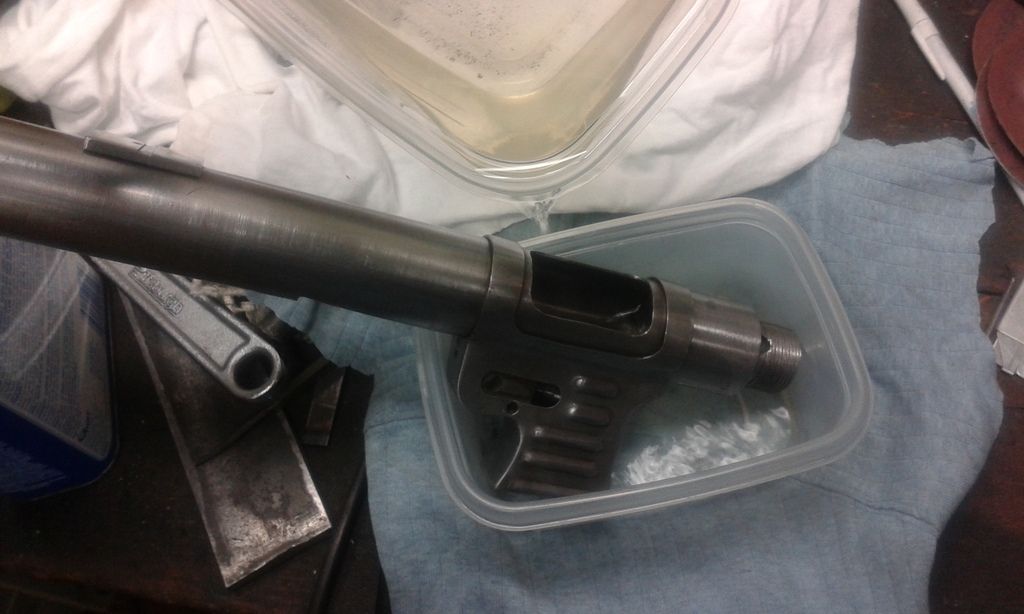 5 Keep Clean in baggies. If you are not going to do anything right away with them, protect your clean parts.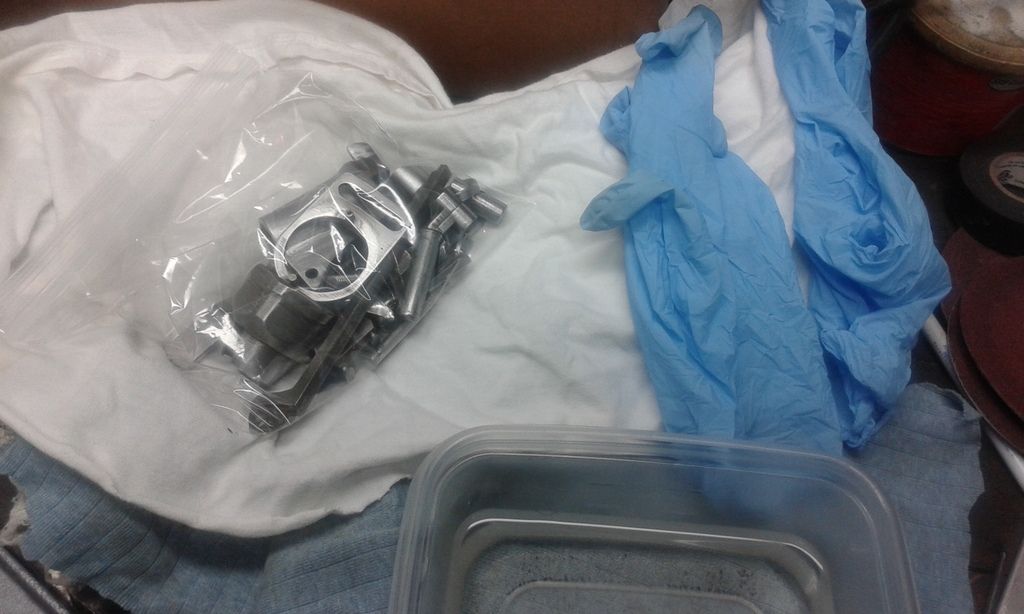 6 This is what my rust solution looks like. The recipe I gave above is just based on what I had on hand. Look on internet and you will find just as many recipes as people doing this. Basically, anything that will promote rust will work. Vinegar with salt and water, or a diluted acid - I bet 1/2 muratic acis to 1/4 vinegar and 1/4 denatured alcohol would work nicely. Just be aware of any hazards associated with what you're using.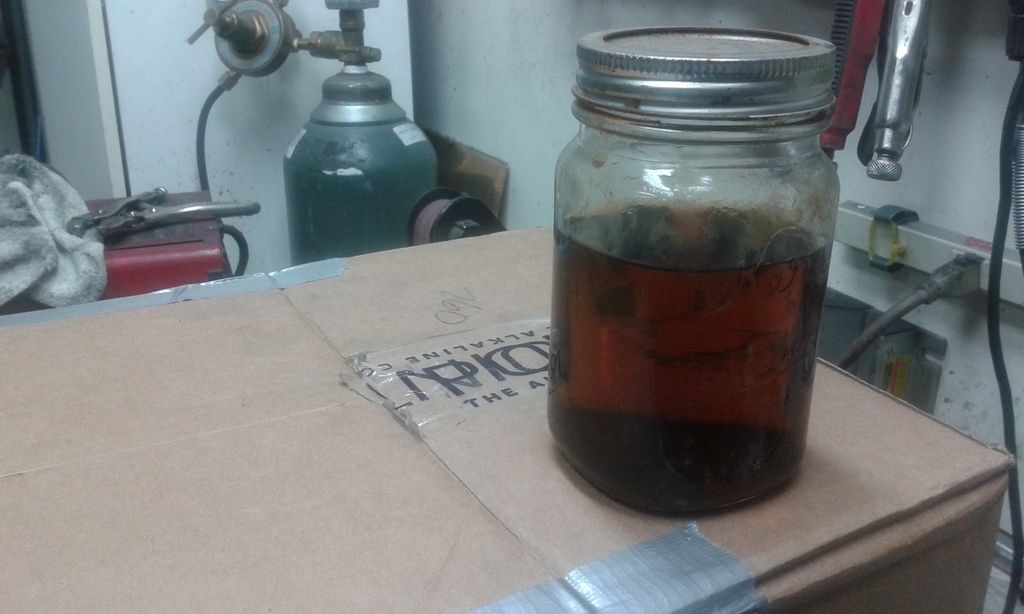 7 Small parts sweat box. Just a cardboard box. I'm not hanging parts anymore, just sitting in the bottom. Seems to be fine.
8 Large parts sweat box made from a recycle bin. No need to go fancy.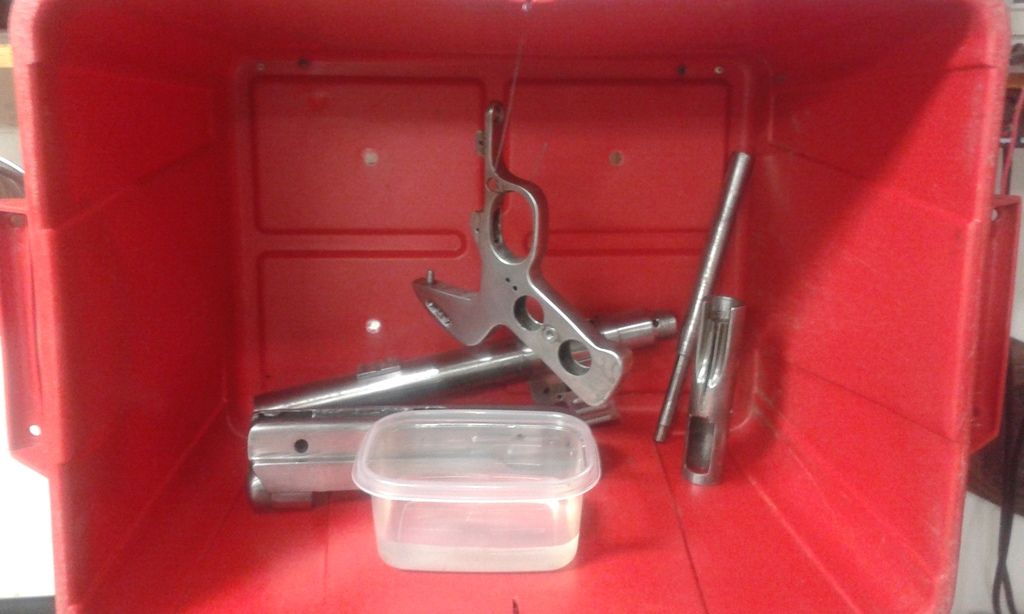 9 Small parts first rusting. Here are what my small parts looked like after the first rusting.
10 Small parts first boil. Yummy
11 Small parts after first boil. What did you expect? At least another 6 or 7 cycles before they may be done.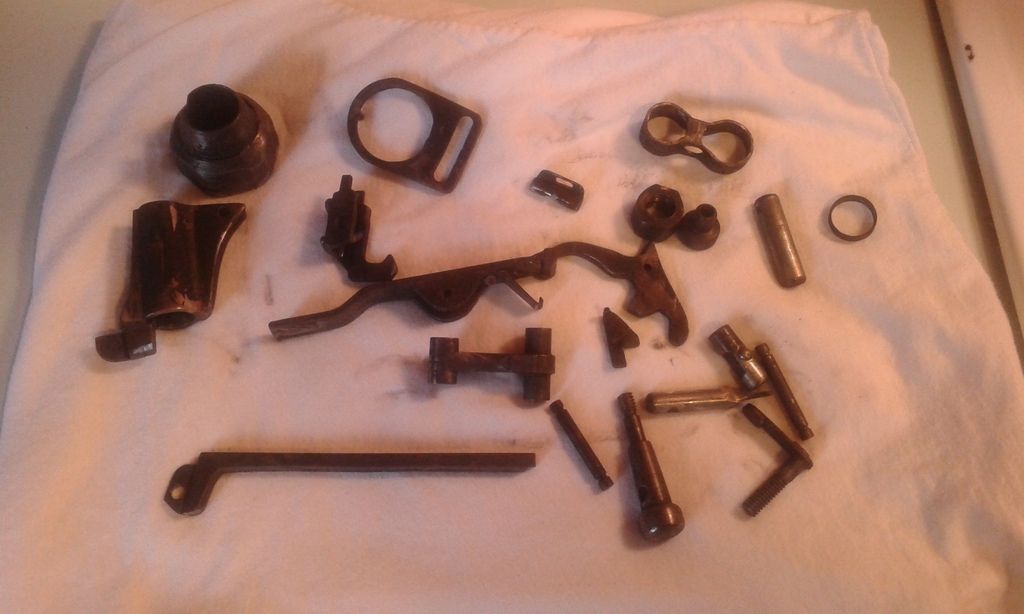 12 Small parts after first carding. The black oxide that is on there after boiling is kind of thick and "velvety" You probably remove about 90 plus percent of this when you scrub with the steel wool. What remains however is tightly bonded to the steel. Subsequent cycles build on this base.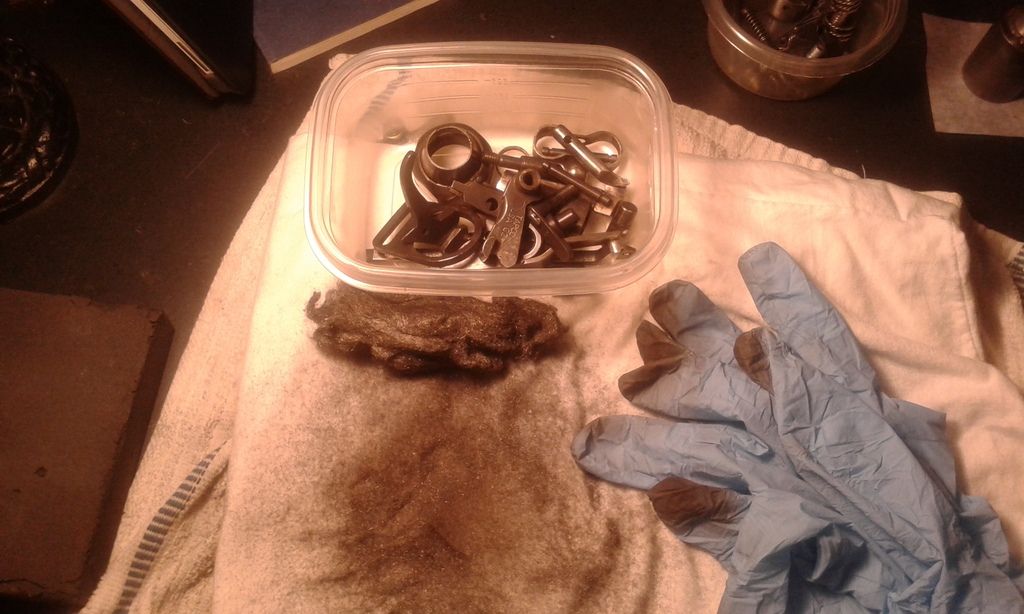 So, I'm just getting started. I'm going to try to boil and card once each night, so perhaps in about a week and a half I'll be done. My large parts came out really blotchy and some areas were still very "white". Probably due to inferior cleaning. However, this will be remedied after repeated cycles as the carding process will clean-off the steel. I went ahead and wiped with acetone again anyway before applying the second cycle of rust solution.
This really is a simple process. I would stress to others the following:
1) Keep everything very clean (Handle only with clean gloves. Buy a big box of disposables and through away after each use.
2) Don't apply too much solution or try to rub it in. Just dip the foam brush in the solution, wipe off excess, and apply in one continuous stroke, with each stroke side-by-side. If you miss a little spot, DON'T try to touch it up. You'll catch-up with it on the following cycles. If you rub the wet solution, it will try to strip-off the base you already have down and make a much bigger problem. Rest assured, it will all eventually blend and match if you build-up very light coats. If you brush a part and notice when you are sitting it down in the sweat box that it has already dried, that is OK. It will do it's voodoo.
3) Use bottled DISTILLED water. Learned my lesson last time. I was using tap water and was not very happy after the 5th cycle. Just wasn't building-up at all. I bought some distilled water and WOW! First cycle with that and the difference was dramatic. I'm no chemist, but it must have to due with available ions or something.
I'll post some progress pics over the next week.
-Ken